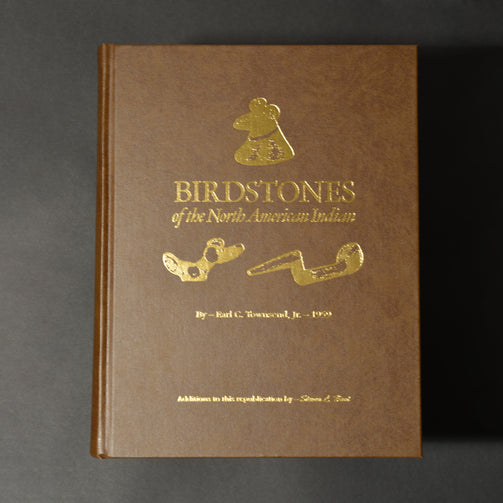 Birdstones of the North American Indian
Birdstones of the North American Indian
Regular price

$250.00 USD

Regular price

Sale price

$250.00 USD
Tax included.
Written by Earl Townsend, Jr – 1959
Republished with Additions by Hart Publishers - 2003
Earl Townsend, Jr. was born, raised and lived (1914 – 2007) his entire life in Indianapolis, Indiana. He was a trial lawyer, a collector of Indian relics, automobiles and fine art. His father collected relics before him, and as a boy Earl found his first arrowhead on the family farm in eastern Indianapolis. He attended the University of Michigan where he starred in basketball and earned an undergraduate literary degree and a later graduate degree in law. He formed and was the first president of the Indiana Archaeological society. His interest in birdstones was initiated through discussions and encouragement of pharmaceutical leader Eli Lilly. At one time, the Townsend birdstone collection included some five hundred specimens. Earl spent five plus years photographing and writing this massive work. At the time of publication (1959), he believed that he had captured all authentic birdstones known in major collections and museums. The Hart republication was done with Townsend knowledge and approval.
The Hart republication features include:
All original works by Earl C. Townsend, Jr.
Larger pages (8 ½ x 11 inches) with larger print on reduced glare paper.
Approximately 300 computer enhanced photographic plates with thirteen in color.
Approximately 750 pages.
Brown hardbound leatherette cover with gold colored embossing.
Biography of Earl Townsend, Jr. by Steve Hart.
Current owners (2003) of many birdstones, when publisher received permission to publish.
A premier reference book for both birdstone and prehistoric cultural studies.
Couldn't load pickup availability