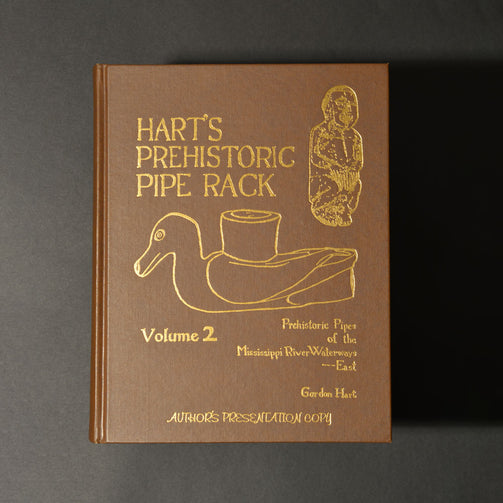 Hart's Prehistoric Pipe Rack Volume #2
Hart's Prehistoric Pipe Rack Volume #2
Regular price

Sale price

$75.00 USD
Tax included.
Prehistoric Pipes of the Mississippi Riverways --- East
Written by Gordon Hart - 1998
Gordon Hart was a pioneer in the field of electronics and medical electronics engineering in northeastern Indiana for some fifty plus years. This technical background helped prepare him for a lifetime of study, collecting and writing of prehistoric artworks. He began his artifact collecting with a self-found arrowhead on his grandfather's farm in 1924, and continued to collect prehistoric objects throughout his entire lifetime. In the early 1960s he began bringing together a major collection of prehistoric smoking pipes, and continued building this concentration for some forty odd years. Hart's Prehistoric Pipe Rack Volume #2 was written after having amassed a collection of some five hundred unique prehistoric pipes. The book features in-depth articles and pictures of approximately 40 unique pipes that he mostly acquired since writing Volume #1 in 1978. Many of which were subsequently featured in national and international museums. The book features include:
Written by Gordon Hart in the late -1990s, published in 1998, first addition, a sequel to Volume 1.
Different pipe types, new information and advanced theories gained across two additional decades of research and study.
Brown hardbound leatherette cover with gold colored embossing.
272 pages (8 ½ x 11) with approximately 300 photos of prehistoric and some historic pipes.
Many pages are in color.
Approximately forty articles of prehistoric pipes originating from the Mississippi Waterways eastward.
A must reference if interested in great prehistoric art, archaic pipe collecting or pipe and tobacco studies.
Couldn't load pickup availability