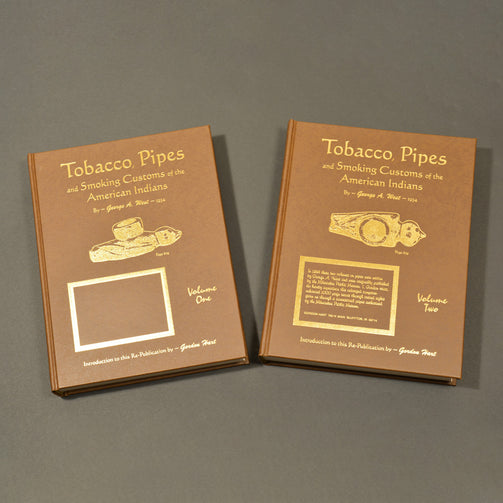 Tobacco Pipes and Smoking Customs of the North American Indian – A Two Book Set
Tobacco Pipes and Smoking Customs of the North American Indian – A Two Book Set
Regular price

$200.00 USD

Regular price

Sale price

$200.00 USD
Tax included.
Written by George West – 1934
Republished with Additions by Hart Publishers - 2001
In 1934 George A. West (1859-1938) published the first major and exclusive works on North American prehistoric and historic pipes and tobacco used by North American Indians. West was a teacher, lawyer, public servant and archaeologist. He served on the Milwaukee Public Museum Board for thirty plus years, thirty of those as president. He was drawn to pipes and began collecting them as early as 1873. At the time of his death, his pipe collection contained some five-hundred pipes, acquired across a broad range of North American origins. His 1934 works is a two volume set of some 1000 plus pages. His works were republished by Hart Publishers in 2001 with some additions. The republication set features:
 All original works by West.
Tobacco brown hardbound leatherette cover with gold colored embossing. Archival paper, acid free to extend quality of book. Page coloration is an off-white ivory for easy reading without glare or distortion.
Pictures are computer enhanced from original publication,
Volume 1 is primarily text, featuring sections on the migration of tobacco, use of tobacco as medicine, classifications of aboriginal smoking pipes, pipe materials, pipe distributions by type, and others.
Volume 2 is almost all pictures that support the discussion presented in Volume 1.
Volume 2 contains an included in-depth article by Gordon Hart on the subject of "Great Pipes" and a brief overview of the Hart pipe collection.
A must reference if interested in great prehistoric art, archaic pipe collecting or pipe and tobacco studies.
Couldn't load pickup availability